One of the magical powers of food is that it has the ability to comfort while bringing back special memories. This tropical quinoa dish does just that for me. In 2008, I spent a couple of months living in an Ashram upstate, and my seva (selfless service/work assignment) was in the kitchen. Everyday we cooked breakfast, lunch and dinner for 250 people, and it was amazing. We didn't use recipes much, but eye-balled ingredients. When I tasted this dish, I was blown away. During my stay, I kept a daily journal that included what we cooked each day. I figured one day I might want the inspiration. So, inspired by a potluck dinner invitation, I decided to go through my journal and I stumbled upon this dish. It's sweet, flavorful and has great texture. I hope you enjoy it as much as I do!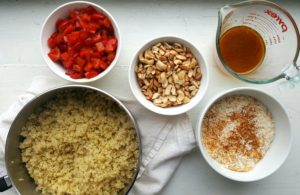 Tropical Ashram Quinoa
Ingredients:
4 cups cooked quinoa
2 red peppers, diced
1 cup unsweetened shredded coconut
1 cup raw cashews
1/8 cup olive oil + 3 tbsp, divided
1/8 cup lemon juice
1 tsp curry powder
1 tbs honey
Procedure:
Preheat oven to 325.
Heat 3 tbsp olive oil in a medium skillet. Add diced red peppers and sautee on medium heat until soft – about 10 minutes. You want them really soft and the oil to get infused with all their delicious juices.
Line a baking sheet with a silicone mat or parchment. Place coconut on baking sheet. Make sure it's spread out and evenly layered. Bake around 5 minutes, checking frequently. You want it slightly brown. It can burn very quickly. Check after 3 minutes and stir. Remove and place in a bowl.
Using the same baking sheet, spread the cashews out evenly. You can use whole cashews or cashew pieces. Bake approximately 10 minutes, until fragrant and slightly golden. Check after 5 minutes.
Make the dressing: Mix the lemon juice, olive oil, curry powder, honey and a generous pinch of salt.
Add the dressing to your cooked quinoa. Taste for seasoning and adjust.
Add in the peppers (with the oil), toasted coconut and cashews and stir.
The last time I made this I also added 1 cup thinly sliced spinach and 1/4 cup thinly sliced basil. Gotta get those greens in!
Secret confession, the cashews have always been my favorite part and I sneak as many as possible into my serving 🙂
Enjoy!