December 2016 I had the honor of being in two print publications, Live Happy
Magazine and Social Work Today. Below are the PDFs of the articles.
There's so much great information on MindBodyGreen, and I'm honored to be among the many contributors. For all my featured recipes, check out my author page here. You can find my tahini cookie recipe on their page, as well as my tips on how to make the most out of fresh herbs. And, if you have leftover tahini, you can always check out my recommendations for fun dishes to make with it.
Feeling low on energy? Looking for some healthy things to do during your lunch break? Not sure what to keep in the freezer? No worries! Check out what I have to say about these topics on Bustle.
It was a pleasure being interviewed for an article on quitting sugar in Organic Life magazine.
Looking to cut down on dairy? You can find some of my advice on Eat This.
The NY Post thinks meal planning is a little type A and only meant for athletes – little do they know meal planning doesn't have to be complicated and will save you time and money (plus make you feel way better!). Even if I don't agree with their opinion, they did use one of my meal planning tips in the article 🙂
Looks like I've got something to say in Australia!
It's always a nice surprise to find an event you're doing listed in the NY Times. Check out the "Coming Up Today" section.
Want some stir-fry ideas? Check out one of mine that was featured on the CheatSheet.
My buddha bowls are famous! You might even see them in this ad on NYTV!
Love the FeedFeed? Me too! And they loved my watermelon mint juice!
Want to keep your produce fresh longer? Check out my article on CureJoy about this very topic!
What's the Big Apple Crunch? Let NYU local tell you all about it. They stopped by to visit and chat while I was making gingered applesauce at Union Square Greenmarket with the Natural Gourmet Institute.
I was totally thrilled to have one of my cooking classes listed on Eco-Cult as one of the "Cool Things to Do in NYC This Week!"
It's podcast time! I loved being interviewed by Paul at Be Yoga Fit about eating mindfully. I also had a ton of fun with Dennis at Dennis Has A Podcast talking about what I do and how I ended up doing it. You know you're having fun when you're laughing during an interview. I guess that's what happens when you meet someone at a comedy show and you're the butt of all the jokes! And lastly, Coach Bryn, from Healthy on a Time Budget, interviewed me for her podcast on the evolution of my diet over the years. We talk about taking it a day at a time and listening to your body to figure out the foods that are right for you.
Further Food is an awesome new community I've had the pleasure to work with recently. They are doing a great job bringing attention to how food can heal and treat disease. This is the most recent article I've written for them on how I manage leaky gut. They have also published two of my favorite soup recipes, my sweet potato soup and my macrobiotic veggie soup as well as this awesome kale salad. Check em out, and check back on my page for more recipes and articles.
I had a great time interviewing with Julie from Eat Up New York. Here are my three favorite tips from the interview for New Yorkers ready to get their healthy on!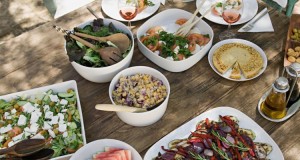 Thanks to the Institute for Integrative Nutrition for the honor of being one of the coaches they featured during the first annual Health Coach Week!
I was honored to be featured in Metro, one of NYC's most read daily papers. You can read the full Metro article here.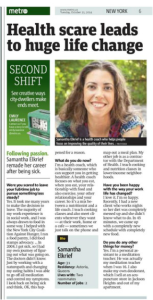 Check out this video from NBC featuring a program I work for called Farm to Preschool. You even get to see me making some raw corn salad! I'm so happy to be a part of such an awesome initiative.
These are some of my favorite tips for going gluten free, as featured in RealFoodsWitch!
I was honored to write an article for the website Nutridivas, on what a Vegetarian can learn from the Paleo folks!
I loved telling the story of an awesome volunteer at the food pantry I was able to help create in this newsletter from the New York City Coalition Against Hunger.
Food stamps are a great way for low-income New Yorkers to get access to fresh fruits and vegetables. Did you know that in NY, if you use your food stamps at a Farmers' Market you get an extra $2 for every $5 you spend? This Queens Chronicle Article shares about some amazing work non-profits are doing to make this possible.  I'm proud to have helped hundreds of New Yorkers get access to Food Stamps.