Chickpeas were always a staple in my family. The first thing I learned how to cook on my own was roasted chickpeas with cumin, salt and olive oil. I guess I did inherit some of the habits and tastes from the Moroccan side of my family!
In the last year, my dad found a chickpea soup that he just loves. It seems like he's made it almost every time I go to visit. It's very basic, just chickpeas, onion, rosemary and lemon. I decided to add my own flare to it with more veggies and greens.
For those of you who follow my posts, you know I'm not that into recipes. I like to work with what I have, what looks good in the market, and I tend to measure by eye. That said, someone on Instagram (hi Yogacheeks!) asked that I post a recipe for the soup after posting this photo. So here it goes!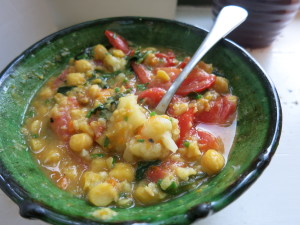 *Note* This recipe uses dried chickpeas. It makes the soup really rich and creamy because you're basically making stalk while cooking the beans. However, this takes a longgggggggggggg time, so feel free to sub in canned chickpeas and start at step 7.
Chickpea Soup with Spinach, Cauliflower, Tomatoes and Herbs
Ingredients
4 cups dried chickpeas
1 onion, grated
1 teaspoon rosemary
1 tablespoon lemon juice
1 tablespoon baking soda
1 tablespoon
1 carrot, grated or cut into small pieces
1 tomato (fresh if in season, canned if not)
1 small head cauliflower (about 2 cups)
1 bunch spinach
Salt and Pepper to taste
Preparation

Soak the chickpeas overnight.
Drain them the following morning, add the baking soda and leave for 1 hour.
Rub the chickpeas in your hands or with a towel to remove the skins.
Rinse the chickpeas very well 4 or 5 times.
Put chickpeas in a pot and add just enough water to cover the chickpeas.
Bring to the boil, removing the froth at the top with a wooden spoon just before they come to the boil. Boil for 15 minutes.
Drain the chickpeas and then put them back in the pot with more water (cover them by about 2 inches). If you are using canned chickpeas, this is where you start.
Bring to a boil, add grated onion, carrots and rosemary and simmer for about 1½ hours (30 minutes if canned) or until they are really tender – don't let them get dry and add water if necessary.
Add cauliflower and tomatoes when the chickpeas are soft, cook for 5 minutes, then add the spinach.
Whisk the olive oil with the lemon juice together and add to the chickpeas.

Simmer for about another 5 minutes and then serve.

Add salt and pepper to taste and add any fresh herbs you have on hand (cilantro, parsley, basil or chives would be amazing).
Enjoy!