I recently took a trip to Austin, and I had to share all the wonderful food I found. I'm gluten-free (non-celiac), dairy free, and mostly vegan (I do eat eggs occasionally), so you know I'm always worried about how I'm going to eat while I'm traveling. Well, I'm happy to report that eating in Austin was not only easy, but super enjoyable. Below are some of my favorites. Let me know if I missed any and I'll be sure to check them out next time!
Case De Luz
This place is special. You walk in through a magical garden of lights to a room filled with smiles. If you've lived on a kibbutz or in an ashram, it has that kind of feel. The menu is set and consists of a soup, salad, steamed veggies, greens, a grain and bean. There's usually some type of pesto, tahini or nut-based sauce that comes with the veggies. Your meal comes with cold drinks (I had hibiscus) and hot tea (kukicha). They also have a-la-carte desserts. I only had the pecan pie (twice), but once I find something good I tend to stick with it! The whole place is vegan and gluten-free, so no need to worry about cross contamination. And, the price tag is quite impressive – just $12. The staff is kind and if you go alone, you're more than likely to make some friends.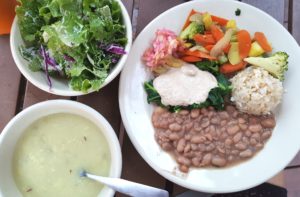 Counter Culture
I have a special place in my heart for Counter Culture because they were my refuge when my Airbnb turned out to be a disaster and I needed a place to chill, eat and charge my phone while I figured sh*t out. Their walnut and beet burger is fantastic. I had it with a collard wrap, but they also have a gluten free bun. Their chickpea "tuna" is also fantastic. They have tons of raw (vegan/gf) desserts to choose from as well.
Curcuma
The best Aryuvedic food truck you could ask for. Right in the center of East Austin, the ladies at Curcuma are so warm and welcoming. The sweet potatoes toasts are delicious, my favorite was the "ricotta".
Bouldin Creek
OMG, the sweet potato pecan tamales… I only ate here once, but those tamales will be on my mind for a while! Definitely go for 3 instead of 2.  The staff encouraged me to order the pecan pesto (top right), which was good, but the tamales definitely didn't need it. My server also allowed me to try the regular and refried beans 🙂 I liked the refried best. There's a huge selection of vegan food, less selection for vegan and gluten free, but you won't feel like you're missing out on anything eating these tamales, that's for sure.  There's also plenty of indoor and outdoor seating.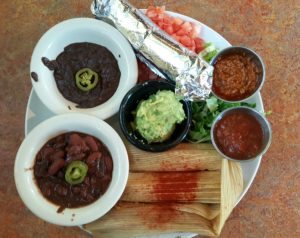 True Food Kitchen
Wow. We had the vegan butternut squash, smoked onion and almond ricotta pizza on the gluten free crust. One of my favorite meals, for sure. The crust was out of this world, not like some of the gf crusts that are super thick or dense. Apparently its made with tapioca and rice flour. All I know is that I would go back for this pizza any day. We also had the mezze salad bowl (warm) and the flourless chocolate cake (gluten free and vegan if you leave off the caramel sauce). The staff was sooo informative and friendly.
Snap Kitchen
There are at least 3 Snap Kitchen locations in Austin. They are 100% gluten free and have many paleo and vegan options (that are clearly labeled). Lots of selection, lots of great dishes like this kale, hummus, brown rice and sweet potato bowl. I also really liked their black bean sliders. Only downside is everything comes in plastic (BPA free) and the only way to heat the food is in the microwaves they provide. I just ate my food cold or took it with me to go and ate it room temperature. Not the end of the world, but a bit of a downside. Definitely great options for bringing to the airport!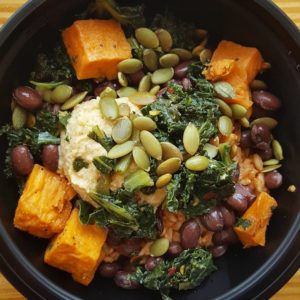 Thai Fresh
I went for the ice cream. You got me. Cashew and coconut milk based ice cream in 10+ flavors. I tried the horchata, gluten free cookie dough, mint chocolate chip and a few others. They had a cookie batter flavor, turmeric, and a handful of other super unique and delicious ice creams. They also have a ton of gluten free and vegan baked goods. I was eyeing the lemon bar, but it just couldn't happen that day. Next time, I'm definitely getting it.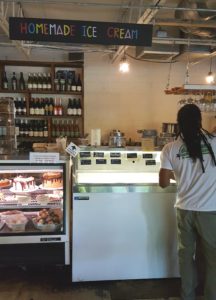 Blenders and Bowls
I saw at least 2 of these during my stay. I'm not really into smoothies or smoothie bowls, but sometimes it was just super hot, and I was craving something cold. I got the green smoothie bowls both times I was there, it has the least fruit and sweetener of any of their stuff, but it's still pretty sweet. I also got one of their pre-made veggie wraps which was really good and perfect to take with me on a hike.
There were also a number of places that had gluten free, vegan and vegetarian options that just required some modification. I had delicious Tacos at Torchy's (an Austin staple), Veracruz (check them out on Food Network) and Whole Foods (their taco bar piles free steamed kale on any taco!)